Opennet Firmware
After moving to Rostock (a town in the north of germany) and becoming connected to a wireless community (Opennet

), I decided to adapt the firmware used so far to get a firmware with all the features I liked / all the features we needed in our network.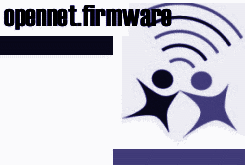 So I combined the OpenWRT

-whiterussian and the Freifunk

-Firmware to what I called the Opennet-Firmware

. The recent Version - which was developed together with sebastian - is v. 0.9.1b "rock mole".
If you are interested in the sources you might have a look at the SVN

.
Releases
v. 0.9.1b (8.11.2005)
v. 0.9.1a (8.11.2005)
v. 0.9.1 (19.9.2005)
v. 0.9 (9.9.2005)
v. 0.8 (18.8.2005)
v. 0.7 (17.8.2005)
v. 0.6 (17.8.2005)
v. 0.5 (15.8.2005)
v. 0.4 (14.8.2005)
v. 0.3 (14.8.2005)
v. 0.2 (13.8.2005)
v. 0.1 (13.8.2005)